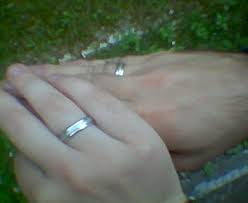 22nd January 2007 
"Ni yang I malas nak buat baik dengan you nih!"  
"What do you mean malas nak buat baik dengan I?" (I am still thinking that the exchange is a mere banter).  
"BECAUSE WE TEND TO FIGHT!" (in all seriousness and annoyance).   – A long uncomfortable silence ensued –
We often hurt the people we love most, and so the saying goes. Thinking that it is forgivable to be absolutely obnoxious to them. After all they are expected to understand us and our issues. Still, marriage is a lot of work that I have surely learnt.  
But sometimes I forget what tickles my spouse most. Just like tonight, I didn't know what hit me in the face until his voice went few octaves higher. He no longer thinks that as two different persons who pledged to the sanctity of marriage together, we should be nice (that is without trying) to each other.  
Personally, I think it must have been quite a chore for him to be nice to me. It surely takes a great deal of effort just by trying to be nice to anyone. On the contrary, I don't suffer from the curse of trying to be nice. In all naivety, I just like being around him, messing with him or just be my plain-annoying-self. 
I guess love has its cycle and after a while your spouse's idiosyncrasies can get to you. But we must remember, respect must be gained in earnest. Words are indeed the most dangerous weapon and thus must be used with careful consideration. For words, once said, it no longer belong to you, it belongs to the person in front of you.  Honestly, I was hurt. I was constantly blamed for igniting the fights. Nevertheless, I for one cannot be angry for long thus I let it pass once too many times.
Experience has taught me an expensive lesson of being patient. Truthfully, I used to be very impatient person. I was easily angered and I found it rather hard to conceal my annoyance.  But marriage and motherhood have calmed me down in countless ways. Just like tonight, when it doesn't take a genius to figure that the unpleasant exchange was uncalled for; but I will get up in the morning, forgive him and myself, take a shower, put on my make up, kiss him and my darling son good morning and subsequently go about doing my ordinary business of the day.  
If at all we need to draw a conclusion from this story, it should be, love forgives and love doesn't keep scores. Sigh.